This article is about common issues with your in-home Wi-Fi, upgrade options, and best practices.
Wi-Fi is NOT Internet
Further Reach Internet Service brings Internet connectivity to your home.
Wi-Fi is a common wireless technology that you can use to distribute Internet connectivity throughout your home/property. Wi-Fi is not technically supported by us, but we will do our best to assist you – we strongly encourage you to take us up on this offer.
Further Reach Includes a Free Wi-Fi Router With All Installations
Further Reach provides, at no additional cost, a Wi-Fi Router to each installation. This router is used for diagnostics and support purposes.
Further Reach Internet Service bring Internet Connectivity to the wired ports on the Further Reach indoors router.
The Further Reach indoors router also includes the ability to connect your devices to the Further Reach network wirelessly – this is called Wi-Fi.

The "hAP2" – Our Most Common Further Reach Wi-Fi Router – Miktrotik hAP AC2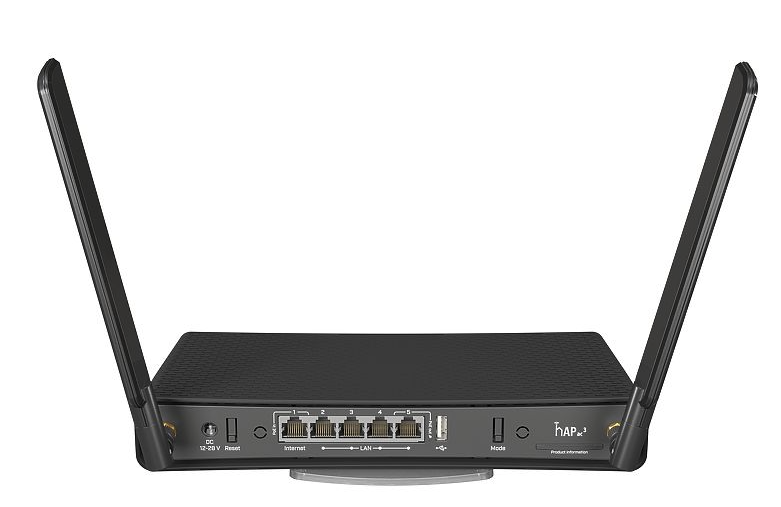 The hAP3 – the newest model we use for larger homes.

Is Your Wi-Fi Coverage Good Enough?
Your Internet will perform at the level of your weakest link. You want to be sure that if you use Wi-Fi, it is designed and configured properly so that you enjoy the full speeds of your Further Reach Internet service.
The Wi-Fi capabilities of the Further Reach Wi-Fi Router are limited generally to the same room that the device is in.

If you have a larger house, longer distances or mission critical applications you should consider one or both of the following.

Using a network cable from your computer to your Further Reach indoors router. Cabled connections are more reliable than Wi-Fi.
Upgrading your Wi-Fi (see below)

Wi-Fi marketers make it sound simple but is actually quite difficult to install well.
! Nearly 40% of customer support issues are a result of poor Wi-Fi.
Testing Your Wi-Fi
The best way to determine if your Wi-Fi needs upgrading is to compare your Internet performance with and without Wi-Fi. To do this:

Use a network cable to connect your computer to ports 2, 3, or 4 of your Further Reach indoors router.
If you do not have a network cable, or your computer doesn't have a wired network port, please move the device to within a few feet of your Further Reach Wi-Fi Router and ensure you have an unobstructed view of it.
Disable all other Internet devices other than your Further Reach Wi-Fi Router. Power-off and unplug all Internet enabled devices. Be disciplined – while inconvenient, this is necessary for a clean test. This includes Televisions, Phones, Tablets, Computers, Smart Plugs/Devices, Cameras, and all other networking devices, extenders, routers, switches.
Test the performance of your typical internet applications like video calls, streaming, browsing etc.
Disconnect the cable in step 1 above and/or move to another location in your home. Do the same tests again.
If performance in step 4 is better than in step 5, that suggests you would benefit from a Wi-Fi Upgrade.
Upgrading Your Wi-Fi/ Extending Your In-Home Network
Consider if you want to upgrade your Wi-Fi yourself or you want us to provide a turnkey solution. In either case, we can provide support throughout the process.
Doing It Yourself – Using Your Own Gear
If you are comfortable configuring Wi-Fi gear, a DIY approach will generally be cheaper than hiring Further Reach.
Wireless Extenders should be avoided. A wireless extender is a remote Wi-Fi device that does not have a network cable connection to your Further Reach indoors router. Wireless extenders cause interference and will slow down all traffic on your network just by being connected (it harms also devices that are NOT being extended — also if a device is nearby the main router).
If you install your own Wi-Fi gear we strongly recommend:

You let us know so that we turn off or coordinate the Wi-Fi radio in your Further Reach Wi-Fi router to ensure they do not interfere with each other.
You use network cables to plug in your own Wi-Fi Router – no wireless extenders. Consider purchasing multiple devices for each area you want Wi-Fi coverage but plan on running cables to each.
You are careful to connect the WAN/Internet port on your router to ports 2, 3, or 4 on the Further Reach indoor router.
RECOMMENDED – Turn off / disable the 5Ghz radio in your Wi-Fi Router. This will ensure that you avoid interference with the connection from our network to your dish. You will need to consult the user manual for your device to do so.
ADVANCED – If you do not want to disable the 5Ghz please make sure that your device allows you to explicitly set the 5Ghz frequency AND channel width. As support to provide you a safe, non-interfering channel to use.
RECOMMENDED – Consider putting your Wi-Fi router in bridge mode. You will need to consult the user manual for your device to determine how to do so.
We don't recommend most mesh systems because they do not allow their radios to be disabled or the frequencies fixed.
We Cannot Make Formal Gear Recommendations
We have not found any consumer devices we are able to formally recommend.
The device we use in our turnkey solution is very complicated to program and is not a good DIY option.
We cannot support any devices you install yourself.
We encourage you to buy devices that are returnable. Test them carefully to ensure they work for you before the return window closes.
The following devices are ones that we know other Further Reach subscribers are using successfully. As before this is not a recommendation.
Turnkey Solution
There is a range of solutions Further Reach can provide.

In the simplest case, we can install a single upgraded Wi-Fi Router, that you will own and we will support and manage. The cost of this approach is between $112 and $269 plus tax for the router and about $100 in labor.
For larger homes, or professional applications, we can run cables to rooms where you need reliable Internet. Each cable run costs $100-200.
For larger sites, we can provide campus wide Wi-Fi, indoors and out.

In these cases, you would own the upgraded devices.
Next Steps
If you would like to set up an appointment to discuss a turnkey solution you can schedule a time that is convenient for you at https://calendly.com/furtherreach/support
If you are going the DIY approach, please email us so we can be sure to configure your existing Further Reach Wi-Fi Router to be compatible.