✅ This FAQ aims to inform you about power backups for your Internet connection. There are many options for batteries and generators. We would be happy to share more ideas. The two items below are one of many available options.
DOES YOUR RELAY HAVE BACKUP POWER
Further Reach's core infrastructure has carefully designed power management systems that include batteries, specialized chargers and management systems, and fixed and portable generators. Our systems are designed to maintain our core network without grid power indefinitely.
However, not everyone is connected directly to our core network. Some are connected on branches that do not have power backups. Please email support@furtherreach.net to find out if your relay has backup power.
POWER FOR YOUR NETWORK GEAR
If your relay has backup power, you might consider getting backup power for your Further Reach network gear. Consider a battery based system for shorter outages. You can add a generator to power more gear for longer.
HOW MUCH POWER DO YOU NEED?
Most homes use less than 15 watts for the roof/treetop radio and Further Reach WIFI Router. A laptop could add 60 watts or more. If you need help with your specific situation email us at support@furtherreach.net. We are glad to help.
BATTERY FOR SHORTER OUTAGE
APC UPS BR1500MS2 – $225
Estimated Capacity 132 Watt Hours
Should power 15 Watts for 8 hours, 30 Watts for 4 hours, 60 Watts for 2 hours.
Surge protection for power spikes.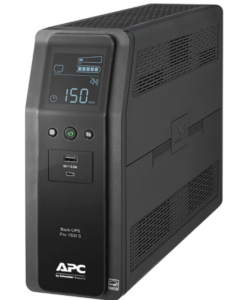 ADD A GENERATOR FOR LONGER OUTAGES, HIGHER LOAD
WEN 56125i – $295
Consider Ethanol Free Gas or Fuel Stabilizer. Do not leave fuel in the generator. Run it dry each time used.
Always use large gauge, high quality extension cords with a generator
Place far away from flammables and vegetation.